Author: mArukqs (also known as Marukas, Marijus, djlietuva)
Album: DEPECHE PURPLE
Download page:

(click on the picture)
User manual:
This is the greatest album of Depeche Purple ever which can be obtained before the global catastrophe happened.
What is Depeche Purple?
Ladies and Gentelmen, here is an answer:
This happened in Year 2080. Deep Purple and Depeche Mode joined their remains into united power of old school superromantic heroes to bring back culture, modern art and fresh mind to civilisation.
Here is the scheme:
Depeche Mode + Deep Purple = Depeche Purple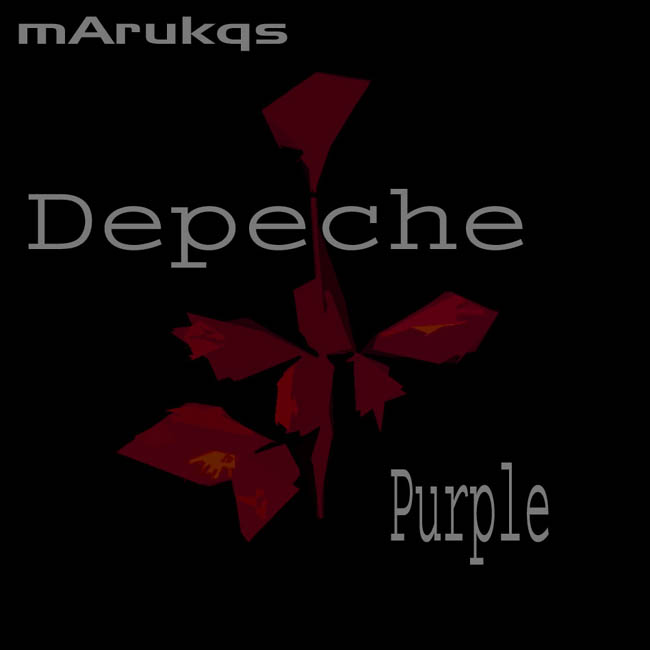 Actually this information was brought to you from the visions of the future inspired by astrogeogrpahical projections of weird cultural crisis and dramatically improved astrocultural happenings which are taking place in the capital of Lithuania Vilnius and the whole country now.
The music is not performed by Marukqs himself. This is not a commercial album. mArukqs was only used as the psychotronic multimedia medium by the Depeche Purple team to present this psychotronic weapon of the future which will be prohibited in territory of Lithuania this year and reserved for usage by our genius government which is psychotronic weapon by itself.
SO YOU MUST COPY AND DISTRIBUTE THIS INFORMATION WITH THE SONGS TO ANY INTERESTED PERSONS TO AVOID THE INCORRECT USAGE OF OPEN MUSIC PSYCHOTRONIC WEAPON.
The following manual was recorded on special manuscript which can be bought in any Lithuanian supermarket and used for non-typing purposes only. This type of manuscript requires no knowledge of local or foreign languages, ethics, religion or cultural knowledge as the information which can be provided on this sort of manuscript can be typed with or without usage of hands by any average local or foreign citizen or local officials.
This manuscript actually is a toilet paper.
Ministry of Old Dumb Grandmothers and Non-Registered Anonymous Alcoholics of the Future are seeking for this information and they are trying to destroy any evidence of Depeche Purple. Soon they will create Text Documents Killers Team. All the information which was ever typed will be used as a toilet paper.
So YOU MUST WRITE! Write an e-mail, SMS message, graffiti. Write anything.

Marukqs on behalf of Depeche Purple